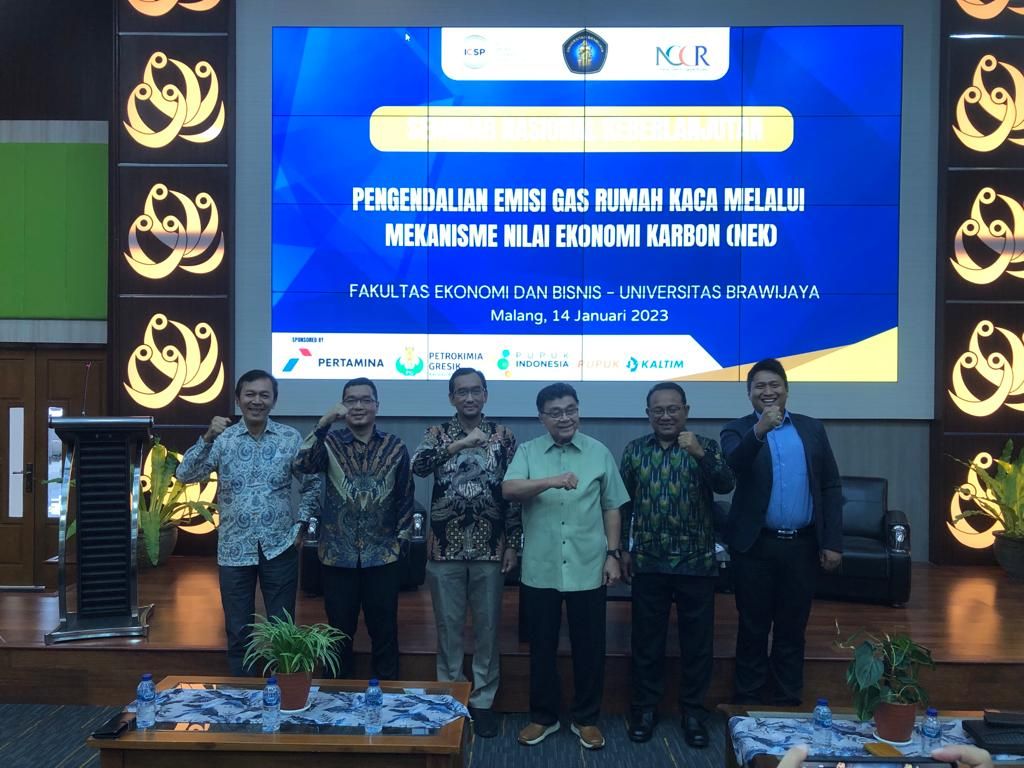 25/01/2023 7:26 am,
KBRN, Malang : Institute of Certified Sustainability Practicioners (ICSP), bekerja sama dengan National Center for Corporate Reporting (NCCR) dan Fakultas Ekonomi dan Bisnis Universitas Brawijaya (FEB UB) berkomitmen untuk berkontribusi dalam hal pengendalian emisi gas rumah kaca.
Untuk itulah digelar Seminar Nasional Keberlanjutan, dengan mengusung tema Pengendalian Emisi Gas Rumah Kaca Melalui Mekanisme Nilai Ekonomi Karbon (NEK), Sabtu (14/1/2023) di Gedung F FEB UB, Malang.
Sebagai organisasi yang didirikan untuk memberikan edukasi kepada para profesional dalam mengelola serta melindungi sumber daya alam dan sumber daya sosial masyarakat sesuai dengan panduan dan prinsip profesional, ICSP menggelar seminar nasional ini bagi alumni National Center for Corporate Reporting (NCCR) yang telah mendapat sertifikasi Certified Sustainability Reporting Specialist (CSRS) dan terdaftar sebagai anggota ICSP.
Mereka bekerja sebagai dosen di berbagai Perguruan Tinggi dan praktisi sustainability di beberapa perusahaan. Beberapa peserta seminar juga berasal dari konsultan sustainability.
Diskusi ini menghadirkan tiga panelis. Pertama, Dr. Wahyu Marjaka, M. Eng, Direktur Mobilisasi Sumberdaya Sektoral dan Regional KLHK, yang menyampaikan materi seputar Mekanisme Nilai Ekonomi Karbon.
Kedua, Martinus Haryo Sutejo, ST., M.Sc., CSRA ESG and Carbon Accounting Expert, PT Surveyor Indonesia membahas seputar Climate – Related Disclosure, dan ketiga, Dr. Ali Darwin, Ak., M.Sc. CSRA Direktur Eksekutif, ESG Academy, National Center for Corporate Reporting, yang membahas seputar Greenhouse Gas Calculation.
Kegiatan ini dilatarbelakangi oleh berbagai upaya dalam pengendalian Emisi Gas Rumah Kaca (GRK) yang sudah dimulai sejak 1977 melalui Protokol Kyoto, namun tidak menunjukan hasil yang signifikan. Oleh sebab itu, Kesepakatan Paris 2015 dianggap sebagai momentum untuk mengendalikan emisi GRK secara lebih terstruktur, terencana dan penuh komitmen oleh masyarakat global. Masing- masing negara telah menyatakan komitmen penurunan emisi GRK.
Indonesia berjanji menurunkan Emisi GRK sampai tahun 2030 sebesar 29% dengan upaya sendiri atau hingga 41% jika tersedia bantuan internasional. Sementara itu, keseriusan pemerintah Indonesia untuk berkontribusi dalam upaya mitigasi dan adaptasi perubahan iklim ditunjukan dengan dikeluarkannya berbagai regulasi dan instrumen serta menjalankan berbagai langkah strategis, yang semuanya bertujuan untuk mengendalikan emisi GRK.
"Untuk itu, peningkatan kapasitas di koorporasi dikembangkan oleh NCCR, dengan begitu semua perusahaan bisa berparitispasi dalam misi, meskipun selama ini peran praktisi atau perusahaaan sangat luar biasa," kata Darwin.
Ia berharap upaya-upaya pengendalian emisi gas rumah kaca yang dilakukan UB bisa menjadi percontihan tak tak hanya di Indonesia, tetapi di dunia.
"Suistanability harus dimulai dari kampus," singkatnya.
Hal senada diungkapkan Direktur Mobilisasi Sumberdaya Sektoral dan Regional KLHK, Wahyu Marjaka. Menurutnya, perguruan tinggi sebagai sumber ilmu pengetahuan punya peran utama dalam misi ini.
"Perguruan tinggi jadi sumber ilmu pengetahuan jadi harus kita gandeng. Pengelolaan UB Forest sebagai upaya pengendalian emisi gas rumah kaca harus
digodok lebih serius, ini modal yang sangat bagus dan positif dari perguruan tinggi," tandasnya.